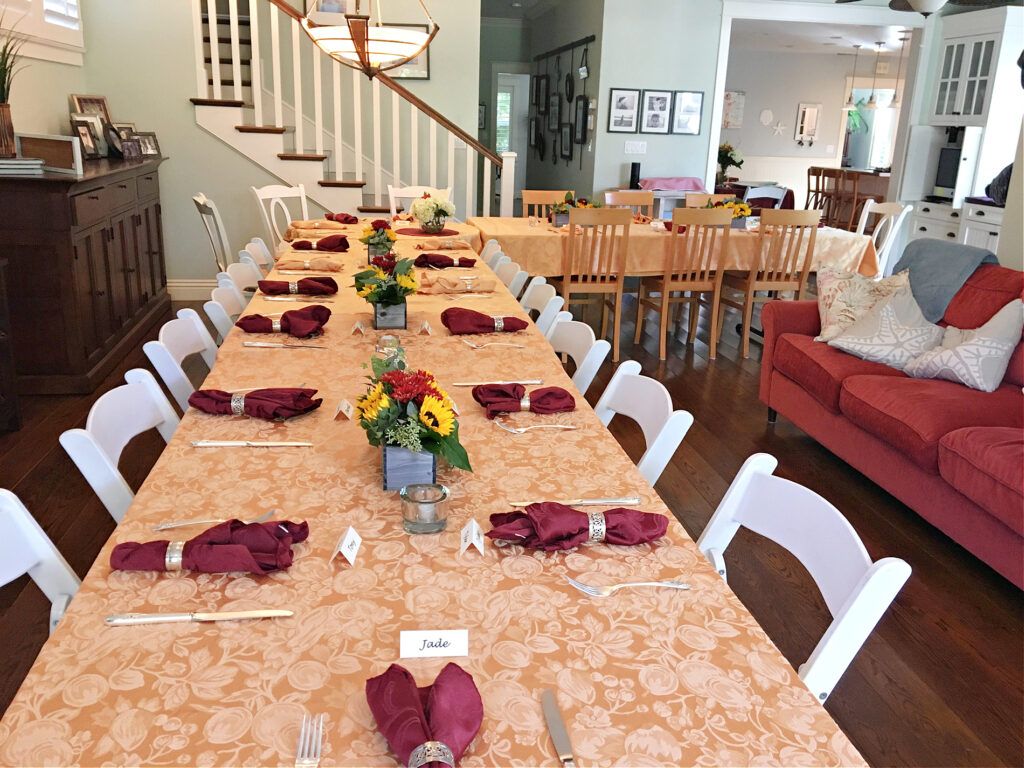 A Professional Organizer's guide to hosting Thanksgiving
Thanksgiving gives us the opportunity to gather with those we love and appreciate the bounty around us. In 2006, my family hosted our first Thanksgiving for our entire family, and we have hosted every other year since! It's a wonderful tradition that everyone loves. The more I do it, the easier it truly gets – and the memories are priceless.
Though hosting Thanksgiving is super rewarding, it can be equally overwhelming! It's important to relax and enjoy family and friends when they are there, so being as organized and prepared as possible is key. Planning well in advance makes all the difference!
I've put together some tips that I have built upon over the years to help you stay organized and relaxed through Thanksgiving this year. I use a combination of lists and sticky notes for all my planning and prep – it's like a road map that guides me through the process, and now I'm excited to share it with you!
First – Make a list for everything
Yup, everything! Trust me, it will help you immensely. Some lists I make are:
Prep List
These are the things you can do well in advance to save yourself time later.
Write down your entire menu along with who's bringing what dishes and what you are responsible for making.
Write down which groceries can be purchased a week or more in advance.
Write down which groceries need to be purchased the week of.
When will you go shopping? Put it in your calendar.
What food prep can you do in advance? When will you do it?
What food prep needs to be done the day of? Write it down.
Are the wine glasses dust-free? Wash them now.
Flower shopping and arranging.
Plan and purchase your Beverages.
Day Before List
These are some of the things you can do the day before so that you're all set to enjoy cooking and entertaining the following day.
Set the table the night before.
Set up your dessert, buffet and coffee areas.
It is really important to us that everyone sits at one table, so we move furniture around and my husband (and boys when they're here) build the table together. We use 6-foot tables and set plywood on top for a larger, more comfortable and stable surface. It takes a village – or at least the whole family!
Create a space to put the plates and silverware and serve the food. I don't put the plates on the buffet table, because of space, so I set them 'on the way' to the table. I also cover them with a towel to keep them clean until the day of.
Use place cards. It felt kind of odd at first to do this, but with large groups like ours, and with certain people always wanting to sit together, we found it just works. It also takes any guesswork out of the picture.
Prepare any side dishes that can be done in advance, as well as any ingredient staging.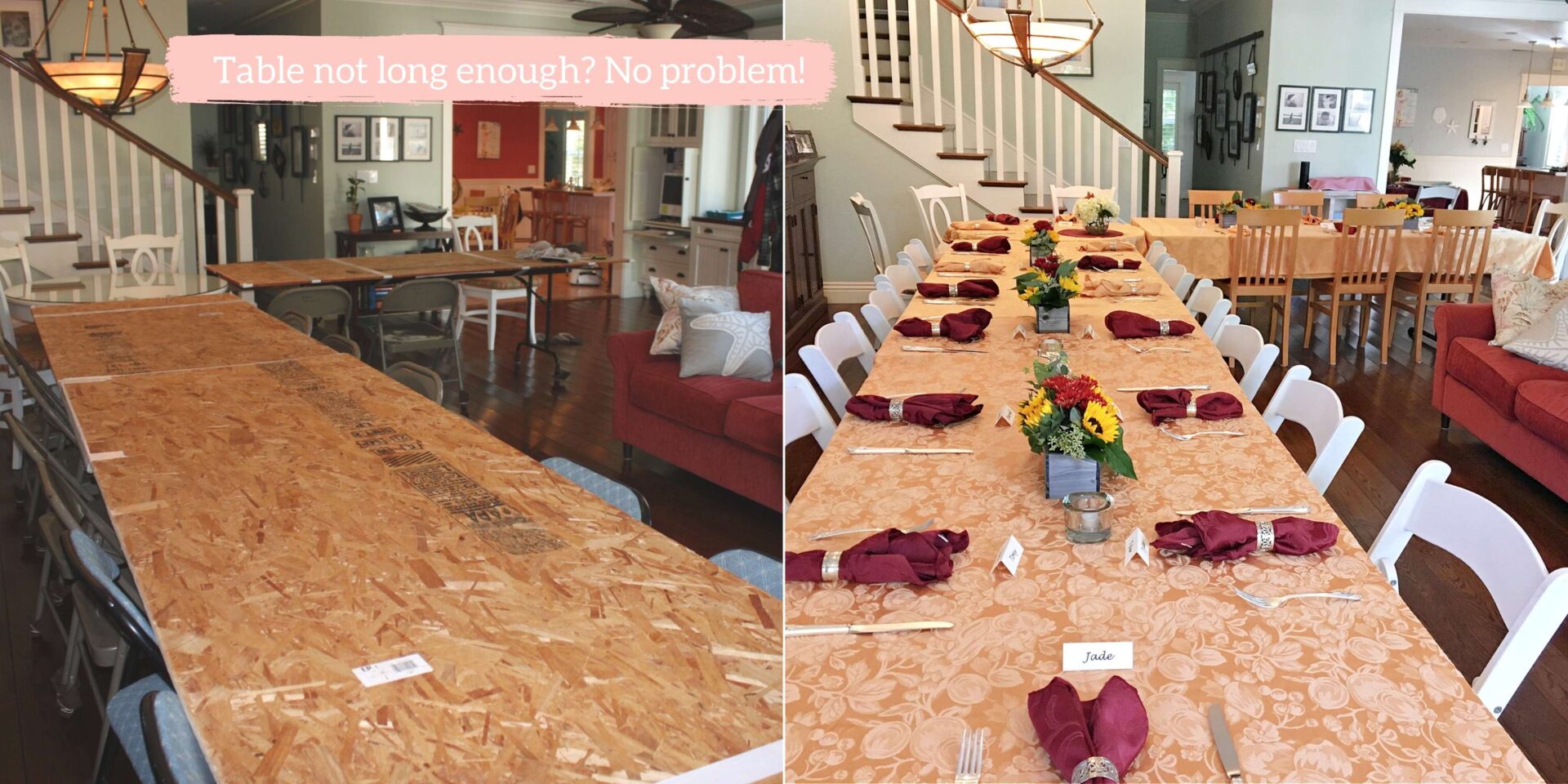 Thanksgiving Day List
It's time for the big event! At this point, you will have set yourself up for success, so having an itinerary of sorts will help you to execute all of your tasks efficiently. Your day of list should include:
When to take the bird out to rest before prepping and cooking.
When to start prepping the bird.
What time to put it in, baste and rotate, and target completion time.
Side dishes that need to be cooked and their cooking location. I only have one oven so I set up roasters in my laundry room and use them for side dishes.
When to go upstairs and freshen up before guests arrive. It may sound silly, but the last thing you want is to feel rushed when it comes to getting yourself together.
When to start the coffee and open the wine.
Second – Label, label, label
I've been using sticky notes way before I was even a professional organizer. For holiday and event prep I use them to:
Place hold where items go on the buffet table.
Leave room since you don't know how large the platters your guests bring may be. For the dishes I'm preparing and plating up, I put the platters on the table to gauge space. Holiday serving dishes are pretty big so it's a good idea to plan around that. I also set the serving utensils out next to the sticky note so I'm not searching for them at the last minute. I replace the sticky notes with little cards that say what the dish is, so everyone knows.
Label ingredients that I pre-measure and have ready for day-of cooking and prep. This is a game-changer for me. When it's written out for you, it helps to get some of the extra thinking out of the way. I do this for any entertaining or detailed prep – not just for holidays.
Last – Reflect
The day after Thanksgiving, I sit down with my coffee and leftover pie (dutch apple please!) and go over my lists. I make notes about which dishes were a hit and which ones we can pass on next time. I write down how long it took the turkey to cook, and how big it was, how much wine we went through, how many cups of coffee were left, which desserts went the fastest, etc. I leave myself notes for next time. It's my wrap-up ritual, which makes the next time so much easier as well.
I hope these tips will help you to enjoy a beautiful tradition with the ones you love! Happy Thanksgiving!
With Gratitude,